Best known for his World War II anti-Nazi political art and his beloved Passover Haggadah, 20th century artist Arthur Szyk (pronounced "shik") single-handedly revived the medieval tradition of illumination.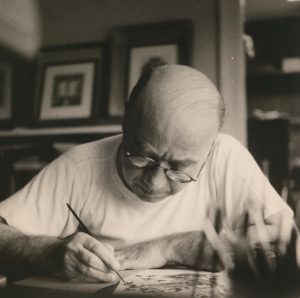 A master of miniature painting and calligraphy, Szyk brought his unmistakable style to subjects as diverse as biblical stories, literary classics, and political caricature and cartoon. Many of his works were published as limited edition fine art books and as editorials in periodicals such as Collier's, Esquire, TIME, and The New York Post. Other popular works, such as his celebrated Declaration of Independence of the United States, were reproduced and widely distributed as fine art prints.
A self-described "soldier in art," Szyk was a committed activist-artist, advocating for religious tolerance and racial equality for minorities, especially for Jews and black Americans. Today, collectors around the globe prize Szyk's art for its vibrant imagery and messages, which remain as stunning and timely as ever.