This is an indispensable publication on the life and work of the great Polish-Jewish-American artist-activist Arthur Szyk. A master of miniature painting and calligraphy, Szyk (1894 – 1951) brought his unmistakable style to subjects as diverse as biblical stories, literary classics, and political cartoons. This powerful, striking book is one for all art enthusiasts and collectors, students of World War II and Holocaust history, and the art world in general, as well as a vital tool for educators.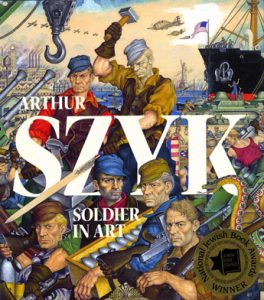 Edited by Irvin Ungar
Contributions by Michael Berenbaum, Tom Freudenheim, James Kettlewell, Irvin Ungar
Foreword by Louise Mirrer
Preface by Steven Heller
Winner of the National Jewish Book Award, 2017 (Click to be taken to the Jewish Book Council's review).
Hardcover/Softcover: 240 pages, illustrations (chiefly color), portraits, photographs
Contact Historicana at (650) 343-9578 to order or click below.
Purchase Hardcover: $55    Purchase Softcover: $40
*Shipping ($15) not included in price. CA sales tax (9.5%) will be added, if applicable.
Please let us know if you would like the copy signed or inscribed.