The tireless force behind the Szyk renaissance, Irvin Ungar is the foremost expert and leading dealer of the art of Arthur Szyk. A former pulpit rabbi fluent in Jewish history and tradition, Irvin entered the world of historic Judaica by founding the firm Historicana, where he has served as CEO since 1987.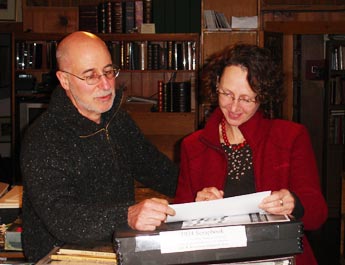 Irvin first specialized in Szyk's remarkable illustrated books and quickly expanded his repertoire to include original art, fine art prints, and other important Szyk works. Irvin's authority on Szyk's life and work is internationally recognized. He has curated and consulted for numerous Szyk exhibitions at major institutions worldwide, including: the New-York Historical Society in New York City; the Palace of the Legion of Honor in San Francisco; the Deutsches Historisches Museum in Berlin; the United States Holocaust Memorial Museum in Washington, DC; the Library of Congress; and the Spertus Museum in Chicago.
Irvin is the author of the national award-winning book Arthur Szyk: Soldier in Art and Justice Illuminated: The Art of Arthur Szyk, the co-producer of the documentary film, "Soldier in Art: Arthur Szyk," and the publisher of the luxury limited edition of The Szyk Haggadah (2008) and the Heroes of Ancient Israel: The Playing Card Art of Arthur Deluxe Limited Edition Box Set (2011). He was also actively involved in the non-profit world as the curator of The Arthur Szyk Society from 1997-2017and was the curator of The Society's traveling exhibition.
Today, Irvin dedicates much of his time to advancing Szyk scholarship. Between museum exhibitions and new publications, he is an active educator, speaking on Arthur Szyk's art at universities and other venues around the world.