The first reference book of its kind, Arthur Szyk Preserved  (Burlingame, CA: Historicana and Lewes, UK: D Giles Limited, 2022) is an essential compendium of original Szyk works of art held in institutional collections.
As he worked across four decades and two continents, Arthur Szyk (1894–1951)—master illuminator, miniature painter, and political artist—created several thousand works on paper. All original Szyk works known to reside in public-facing institutional collections are now gathered in one definitive reference volume, empowering a new generation of scholars and art lovers to locate individual works and to survey the artist's career with ease.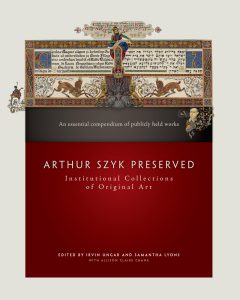 Brimming with new research and fresh insight from the world's foremost Szyk expert, Irvin Ungar, Arthur Szyk Preserved testifies to the depth, breadth, and unmatched brilliance of the twentieth century's outstanding artist-activist.
Edited by Irvin Ungar and Samantha Lyons, PhD, with Allison Claire Chang
Hardcover: 96 pages, color illustrations and plates
Contact Historicana at (650) 343-9578 to order Arthur Szyk Preserved or click below.
Purchase Hardcover: $59.95