The Haggadah (Hebrew for "the telling"), the great book of freedom, tells the story of the exodus of the ancient Hebrews from slavery in Egypt. One of Judaism's most popular works of religious literature, it has been used during the Seder meal of the holiday of Passover—that is, Pesach—for more than one thousand years.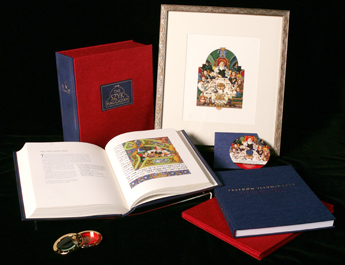 Jewish artists first began illustrating the Haggadah during the Middle Ages (the Sarajevo Haggadah of the 14th century is a well-known example), a vibrant tradition still observed today.
Without question, one of the most beautiful and moving of all illustrated Haggadot is the beloved Haggadah of Arthur Szyk (1894-1951). Drawn and first published during the rise of Hitler, The Szyk Haggadah is a triumphant and enduring work of hope and courage, the supreme expression of one artist's love for his people and his heritage.
A Polish Jew keenly aware of current events, Szyk fused his two passions—art and history—into a visual commentary on the dangerous parallel between the Passover narrative of oppression in ancient Egypt and the alarming developments unfolding in Nazi Germany in the 1930s. The artist adopted illuminated miniature painting—an antique and nearly forgotten technique—to comment on the politics of his day. The end result is so spectacular that the words of an early reviewer still ring true: "The Szyk Haggadah is worthy to be placed among the most beautiful of books that the hand of man has produced."